2020: The Year of Innovation and Reimagining
The new decade began much like the previous one ended – with time-tested marketing strategies and measures assuredly in place, backed by more than 35 years of experience in senior living sales and marketing.
During the last half of 2019, Senior Marketing Solutions (SMS) client Arbor Acres set a solid foundation for a strong 2020. Armed with marketing research from Brecht Associates, we hosted nearly 200 wait-list depositors for a presentation on a proposed expansion. Architecture firm SFCS showcased the proposed design for hybrid villa apartments and a cultural arts center with loft apartments and assessed the depositors' preferences.
As 2020 began, SFCS refined their designs based on the insights gathered in December while Senior SMS and Arbor Acres management conducted competitive site visits and pricing analyses, developed the pre-sales marketing plan, and prepared for early March focus groups to refine the apartment floor plans.
The COVID Transformation
Concerns over a new and aggressive virus – and fears of a global pandemic – prompted the proactive cancellation of the early March focus groups. Instead, Arbor Acres focused on developing and implementing new safety measures, communicating with residents and families, and learning to adjust to new health restrictions, which included no in-person marketing events or tours.
Keeping prospective residents engaged would challenge those time-testing marketing strategies in ways we never expected. The entire sales process needed to be reimagined – including how we communicated with prospects, how applications were accepted, and the sales tools we used to keep prospective residents engaged and meet occupancy goals. The expansion, newly named Aldersgate Square, remained a priority despite the pandemic.
Karen Hodge, founder of SMS, worked with SFCS to conduct virtual focus groups using a polling tool that SFCS had used at their annual conference. Three focus groups consisting of about 40 participants each were held in May. SFCS presented their plans via PowerPoint with strategic polling questions throughout, followed by an email survey that provided additional consumer insight. Smaller, more interactive focus groups were held in June via Zoom to gain perspective on design points of individual apartment floor plans and proposed pricing. An email survey also followed.
The Next Normal Becomes….Normal
After six months in a COVID world, Arbor Acres began the third quarter of 2020 with virtual marketing as the norm. New resources and measures were emerging to track lead generation and sales measures such as calls, appointments, and occupancy. Despite the transformational change that had occurred in the previous three months, Arbor Acres continued to exceed national measures, keeping close to the budgeted 95% occupancy.
With stable occupancy and strong interest in the proposed expansion from nearly 100 prospective residents, Arbor Acres applied to the North Carolina Department of Insurance (DOI) and was granted permission to begin accepting $1,000 non-binding deposits beginning in late July.
Earlier in the spring, SMS and Arbor Acres explored using a virtual tour tool called Your Tour by The VECTRE. The platform includes interactive campus maps, inventory management, and personalized experiences for prospective residents. This would become a crucial tool in the COVID-era marketing plan as virtual meetings were schedule to move the project forward.
Nine Zoom sessions were held focusing on four target groups:
1. Those who had placed a $1,000 deposit and had participated in a virtual focus group in May or June. The meetings had a social tone with a meet and greet approach. Some visual updates were provided, including new architectural renderings.
2. Those who had placed a $1,000 deposit but had not participated in a previous virtual focus group. There was brief social engagement for this group.
3. Newly interested prospects as well as the general Arbor Acres wait list. Participants were invited to an informational meeting and then a Q & A session.
4. General Q & A sessions, each limited a maximum of 12 participants to allow more engaged interaction.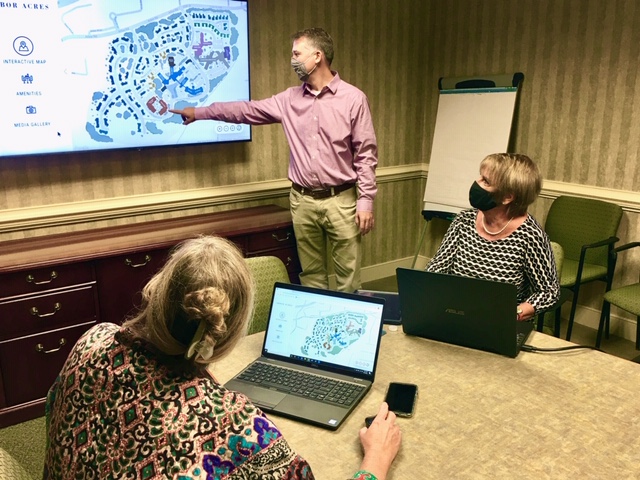 Vectre training YourTour Hoyle Koontz with Karen Hodge and Lynn Ross
Tech Paves the Path to Success
Virtual resources will be the dominant communication and marketing channels through the remainder of 2020 and into the New Year – particularly individualized Zoom and YourTour presentations, along with monthly Zoom meetings for social engagement and new inquiries. As restrictions are beginning to ease to allow for limited visitors, a plan is a place to enhance the Arbor Acres marketing suite. The suite will be outfitted with digital monitors featuring the interactive YourTour map, photos, videos, and inventory tools that showcase the variety of residential choices and high care options.
Well known for offering superior construction and a high level of customization, Arbor Acres is offering numerous options and finishes for the Aldersgate Square expansion. Finishes and options will be demonstrated in the new marketing suite, including a model kitchen and bathroom. The construction team at Blum Construction will also use a 3-D tool to help depositors visualize and select their finishes, appliances, and options.
In conjunction with filing for DOI Step 2, a rebranding campaign celebrating Arbor Acres 40th anniversary and introducing a new web site will be rolled out in the last quarter of 2020. It is anticipated that Arbor Acres will receive Step 2 approvals from the DOI and begin accepting 10% deposits in early 2021.