Located in the heart of Washington D.C. overlooking historic Rock Creek Park, Knollwood Military Life Plan Community was the first retirement community exclusively for retired military officers with more than 20 years of service. Recently, the decision was made to expand admission criteria to a broader category of military and service retirees. The marketing challenges were three-fold when Senior Marketing Solutions was engaged to help reposition the Knollwood campus to this expanded market:
1) Limited brand awareness. Established in 1963, Knollwood has historically been available exclusively to military officers with over 20 years of service. The limited-admission criteria created a narrow market easily reached by low-key marketing efforts, resulting in modest awareness of Knollwood and a limited share of voice in the marketplace.
2) Underdeveloped marketing team. Turnover within the marketing department over the previous five years required a restructuring of the entire team and reinforced sales processes and procedures.
3) Inventory. Most of the apartment inventory was outdated and 75% (120 of 160) were 1,000 sq. ft. or smaller.
The Terrace at Knollwood consists of 44 private assisted living apartments and the Health Services Center consists of 73 licensed beds – 42 for short-term rehabilitation, skilled care and long-term care and 31 for memory care. Like other mature life plan communities nationwide, Knollwood is challenged to market for direct admissions into licensed care levels as residents elect to age in place in their apartments. This places increased demands on the marketing team and the need to "right size" licensed care services based on current trends. The early phase of repositioning included market research for 2019-2020.
The Role of Senior Marketing Solutions
Senior Marketing Solutions (SMS) joined the Knollwood repositioning team in a two-phase marketing consulting contract in December 2018. Phase 2 is currently being implemented.
Phase 1
The first 90 days focused on coaching and evaluating the existing marketing team. A 2019 marketing, communication and sales plan was developed in collaboration with Van Eperen, a Washington D.C.-based public relations and marketing agency, to boost occupancy and initiate the rebranding process.
Budget constraints held the rebranding effort to a strategic refresh of the Knollwood web site and collaterals with a modest budget for earned, paid and digital media. The first six months of the plan focused on traditional military markets, followed by broader marketing reach when admissions criteria were expanded in mid-2019.
On-campus strategies included targeted events to move smaller inventory, fully decorated model apartments, a Spring Open House event using direct mail and digital marketing, outreach to community military organizations and incentives for mid-year move-ins.
These focused marketing strategies along with management's commitment to renovate apartments to include a more open floor plan and the opportunity to customize finishes increased occupancy by third quarter.
Phase 2
Since April 2019 Senior Marketing Solutions (SMS) has been a key part of the repositioning project team. The multi-faceted approach includes:
1) Market research. SMS was the lead liaison for the RFP process resulting in the selection of Dixon-Hughes Goodman (DHG) for a market study, pricing analysis and consumer research in collaboration with Glynn Devins (GD). These firms have used email and direct mail surveys as well as focus groups to gain insight into the correct unit mix for Knollwood, the appeal of wellness and dining programs, and pricing for a potential expansion.
2) Marketing team restructuring. Job descriptions have been revised. A qualified marketing team member has been designated to focus full-time on licensed care admissions for both internal transfers and direct admissions to build census in assisted living, skilled care and rehabilitation and long-term care. An Interim Director of Marketing has been chosen to continue the renewed sales focus, and a firm has been retained to conduct a search for a new Director of Marketing in 2020.
3) Database analysis. A review of the CRM determined the need to clean up the database and consolidate resources. Taylor Reporting Systems has been retained to clean up the data and to convert to Matrix Marketing, bringing all marketing systems on one platform.
4) Budget recommendations. Based on the insights gleaned from the research that has already been conducted, SMS has provided a foundational 2020 marketing budget recommendation and a draft budget for a potential expansion.
5) Advanced level SMS has recommended and is supporting a RFP for a larger sales and marketing firm to be retained in 2020 to expand the marketing effort in Phase 3 of the project.
The Knollwood repositioning project team also includes David Slack and Lydia Pugh with Aging Research Institute (ARI), Greenbrier Cole Grey & Peter Field, Tom Seybolt with Westminster Ingleside Group (WING) and Vernon Feather and JD Landis with SCFC Architects.
"We value and respect the marketing and sales foundation Karen has provided to our team during this initial phase of repositioning. Her years of experience allowed us to immediately restructure the marketing team and help direct us to industry resources during this early phase in project development," said Col. Paul Bricker, Knollwood COO. "I sincerely appreciate Karen's integrity to guide us in selection of the right fit as liaison with DHG-GD during market research, finding an interim Marketing Director until the time was appropriate for national recruitment, marketing insight on presales unit mix-pricing, 2019-2020 budgets, and now helping us secure a larger firm in 2020 based on future board approvals."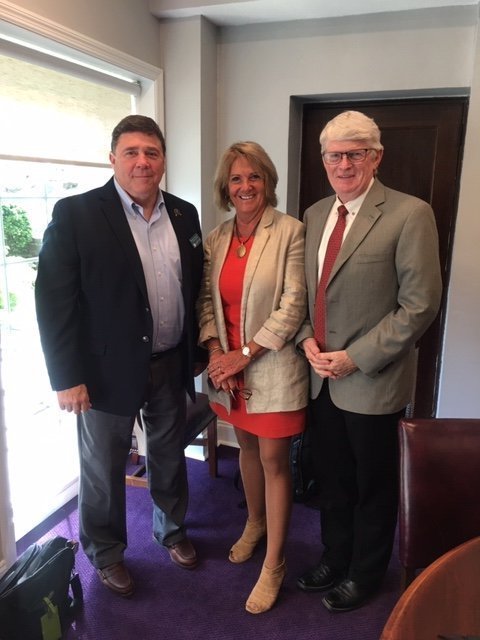 Knollwood Military Lifeplan Community: General Timothy McHale CEO, Karen Hodge consultant, David Slack ARI