Arbor Acres, located in Winston-Salem, North Carolina, is a Life Plan Community founded in 1975, affiliated with the United Methodist Church, and one that thrives with progressive programs, a unique artist lifestyle, and decades of stable occupancy. Fitch rated as a BBB+, this financially strong Life Plan Community keeps a competitive edge in the market by constantly continuing to move forward in vision.
In the early phase of exploring opportunities, Senior Marketing Solutions (SMS) joined the team as a complement to steady leadership and a stabilized marketing team. The current campus consists of 262 independent living residences, including 138 homes and 123 apartments, 67 assisted living apartments, 30 memory care and 83 skilled beds. Marketing opportunities included: (1) Growing demands of licensed care marketing with more residents choosing to age in place, placing exponentially increasing demands on marketing team for direct admissions; (2) Market research to explore potential future expansion; (3) Repositioning/rebranding as the community approaches its 40th anniversary in 2020.
Role of SMS:
In May 2019 Senior Marketing Solutions (SMS) joined the Arbor Acres team as part of an effort to reposition marketing strategies and help with marketing-consumer research. Stabilized 95% occupancy, an active wait list and high consumer awareness all indicated a successful marketing position. Arbor Acres wanted to build and ensure continued success by bringing in SMS as a 3rd party marketing consultant to refine systems, enhance utilization of the community's new CRM and to add insight in the planning process.
SMS's Karen Hodge had the pleasure of reconnecting with Arbor Acres' CEO Andrew Applegate at the annual SFCS conference and then again, along with Arbor Acres' management team, at the NC Leading Age Spring conference. Conversation about new trends and industry insight led to a collaboration to bring Karen into the Marketing team in an advisory role. Included in this role: (1) Evaluation of marketing team time demands, resulting in recommendation to hire an admissions coordinator to handle growing demands of licensed care marketing (2) Liaison with Brecht Associates for an updated Market Study and Consumer Focus groups (3) Pricing analysis including developing standards for premium upgrade entry fees from prime views to resale of upgraded homes and apartments (4) Participation on repositioning project team for early exploration of future expansion (5) CRM review with recommendation for Taylor Reporting's Kate Phelps to enhance CRM utilization and develop customized reporting (6) Marketing resource for future pricing, budgets and renovation standards.
" Having worked with Karen previously at Asbury Methodist Village ," Andrew Applegate CEO " I knew her marketing knowledge would complement our marketing team as we move forward in 2020."
"What I appreciate most about Karen is her ability to share her experience in a professional, positive and productive manner that motivates a team ." Lynn Ross Director of Marketing " She provides insight and innovation with advice on resources as needed, and she's a pleasure to work with!"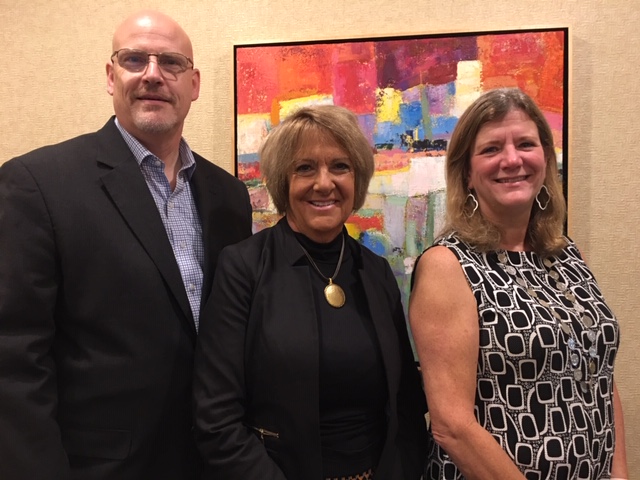 Andrew Applegate CEO, Karen Hodge consultant, Lynn Ross Director of Marketing