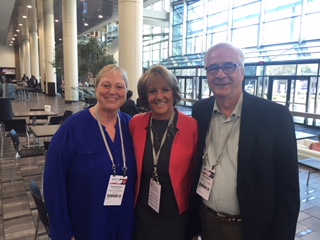 This photo will always remind me of two senior living marketing successes in Maryland – here I am at Leading Age with two of Maryland's strongest senior living leaders, Sue DaCamara, Asbury Communities Chief Operating Officer, and Geary Milliken Chief Executive Officer at Carroll Lutheran Village and The Lutheran Village at MILLER'S GRANT.
Took a break from consulting in January 2016 to return to Maryland and the challenge of opening The Lutheran Village at MILLER'S GRANT and stabilizing occupancy in the original, 35+ year-old Traditional neighborhood of Carroll Lutheran Village. I love opening new communities and the opportunity to position a campus that is a blend of newer and more mature residences making it appeal to today's consumer was an exciting proposition and one I could not pass up on.
Originally planned to stay three to five years – that's about how long it would normally take to accomplish these goals. Happy to say MILLER'S GRANT is 97% occupied and 99% reserved years ahead of financial forecasts, and occupancy at Carroll Lutheran has stabilized at 95% occupancy for over a year.
With my goals accomplished well ahead of schedule – and two outstanding marketing teams in place – the need to be with family is pulling me back home. Returned to the Carolinas reconnecting with prior clients and welcoming opportunities to join new teams for consulting work.
The past two years in Maryland have been amazing, however I have to admit I am excited to return to consulting to face the unique challenges ahead of us in this industry.